Triage
CureMetrix cmTriage™
cmTriage™ from CureMetrix is the first FDA-cleared software in the U.S. intended to provide a notification triage code to the radiologist's mammography worklist based on the presence of a suspicious region of interest found by the underlying algorithm.
This workflow optimization tool enables a radiologist to customize their mammography list based on cases that may need immediate attention.
Currently, viewing stations do not allow for intelligent sorting and prioritizing of cases – a radiologist can only sort based on name, date of image acquisition, time of image acquisition, etc. With cmTriage, a radiologist can sort and prioritize cases in their worklist based on the presence of suspicious regions of interest found by the underlying algorithm. This gives the radiologist the opportunity to tackle the more difficult mammograms with a heightened awareness, or perhaps to assign those cases to the specialist best suited to interpret them.
cmTriage can also be used to optimize clinical protocol and maximize a clinic's utilization of resources.
cmTriage is vendor agnostic for any 2D FFDM screening mammography equipment and takes less than five minutes to process a study, so it seamlessly integrates into a radiologist's workflow. Additionally, cmTriage is cloud-based so there are no added systems to install or buttons to click. The software is both DICOM and HIPAA compliant and no PHI ever leaves the hospital.
cmTriage
Works across all breast densities
Works with both mass and calcifications
According to the Breast Cancer Surveillance Consortium (BCSC), the average sensitivity of a radiologist is 84.4% and on average they are recalling 9.6% of cases. cmTriage only flags 8.2% of cases at the same sensitivity1
At the increased default sensitivity of 93%, cmTriage will still only identify 24% of your worklist as suspicious while also potentially catching 1 to 2 more cancers per 1,000 screening cases
FDA Cleared
cmTriage is FDA cleared as a notification-only, parallel workflow tool used to identify specific patients to a radiologist based on the presence of at least one suspicious finding to support standard of care image interpretation. It is easy to implement clinically and enables a radiologist to prioritize the most suspicious cases and optimize their workflow.
Publications
CureMetrix - Early Detection White Paper
Reduction of False-Positive Markings on Mammograms
Improved Cancer Detection Using Artificial Intelligence
Assist for diagnostic of breast Cancer
CureMetrix cmAssist®
CureMetrix cmAssist® is an investigational, computer-aided detection (CAD) software that has the potential to quickly detect key regions of interest on a mammogram, and accurately quantify and classify the anomalies as suspicious or verifiably benign.
cmAssist does this by searching all views of a digital 2D-mammogram for abnormal areas of density, mass or calcification and by highlighting any suspicious areas needing further analysis. The software utilizes a unique, data-driven neuScore™ which is a quantitative measure of suspiciousness of a region of interest ranging from 0 (least suspicious) to 100 (highly suspicious). Once validated, cmAssist can as a clinical decision support tool that will enable physicians to:
Catch cancers early
Reduce their false positives
Reduce their recall rate
Reduce unnecessary biopsies for both mass and calcifications
cmAssist allows configuration of the operating point for both mass and calcifications that is customizable to each hospital or clinic.
The operating points establish a threshold which determines which regions of interest are displayed to the radiologist based on desired levels of sensitivity and specificity.
cmAssist has been optimized to display very few false positives per image at a high sensitivity resulting in a CAD software that radiologists can trust. The goal is to allow physicians to focus on the most relevant data and discard irrelevant variables to help them converge on answers and arrive at a diagnosis more quickly and accurately.
Publications
CureMetrix - Early Detection White Paper
Reduction of False-Positive Markings on Mammograms
Improved Cancer Detection Using Artificial Intelligence
Detects coronary diseases
Triage
ChestEye Queue
ChestEye Queue is a radiological queue management and triage solution, which automatically prioritizes chest X-rays of potentially unhealthy patients inviting urgent specialist attention.
Assist for diagnostic of chest diseases
ChestEye CAD
ChestEye CAD is a fully automatic computer-aided diagnosis (CAD) chest X-ray solution. It localizes radiological findings on a heatmap and produces preliminary reports (image in, report out) for radiologist's approval.
Supported Findings
Linear Atelectasis
Lobar Collapse
Enlarged Heart
Edema
Pleural Effusion
Loculated Effusion
Fissural Thickening
Bullous Emphysema
Pulmonary Emphysema
Subcutaneous Emphysema
Consolidation
Pneumothorax
Tuberculosis
Hypoventilation
Lymphadenopathy
Hypertension
Granuloma
Lymph Node Calcification
Elevated Diaphragm
Dislocated Mediastinum
Widened Mediastinum
Congestion
Fibrosis
Interstitial Markings
Pleural Adhesion

Hilar Prominence
Mass
Cyst
Pulmonary Cavity
Sarcoidosis
Hernia
Removed Lung
Enlarged Aorta
Goitre
Thymus
Aortic Sclerosis
Respiratory Distress Syndrome
Retrosternal Airspace Obliteration
Pleural Thickening
Pneumomediastinum
Pericardial Effusion
Pleural Plaque
Pneumoperitoneum
CV Catheter RA Placement
CV Catheter SVC Placement
HD Catheter RA Placement
HD Catheter SVC Placement
Catheter Malposition
Intubation
Intubation Malposition

Chest Tube
Sternal Wires
Endovascular Stent
Tracheal Stent
Esophageal Stent
Artificial Heart Valve
Intra Aortic Balloon
Ventricular Assist Device
Nasogastric Tube
Pacemaker
Spinal Implant
Azygos Lobe
Gastric Bubble
Bowel Gas
Barium Swallow
Abnormal Rib
Rib Resection
Spinal Compression Fracture
Spinal Degenerative Changes
Spondylosis
Osteoporosis
Kyphosis
Scoliosis
Ligament Ossification
Spinal Enthesopathy
Automatic reporting
Research of similar cases
ChestEye Search
ChestEye Search finds X-Ray images with similar radiological appearance in a given database. The similarity is identified by a neural network, which judges both the pathology present as well as other features in the image such as the location of the pathology, its severity etc.
ChestEye Search empowers the user to quickly find retrospective cases with similar radiological appearance. This allows to study the report/final diagnosis/outcome of the patient.
Triage for trombectomie
CTA automatized
CTP automatized
MR Diffusion
Assistance for clinical decision
Bacteriology

Parasitology

Hematology

Assist for diagnostic of knee arthritis
RBknee™
Radiobotics first CE-marked product can:
Automatically detect major findings relevant for radiographic osteoarthritis,
Provide a text report with findings and conclusion,
Visual overlay highlighting what the algorithm has detected
Our clinical validation studies showed excellent agreement with clinical experts.
The algorithms can be integrated directly into your workflow via RIS/PACS, and either be triggered on demand or run immediately after acquisition, meaning a draft report will be ready in the reporting module when the case is opened from the work list.
Overlays and Automatic reporting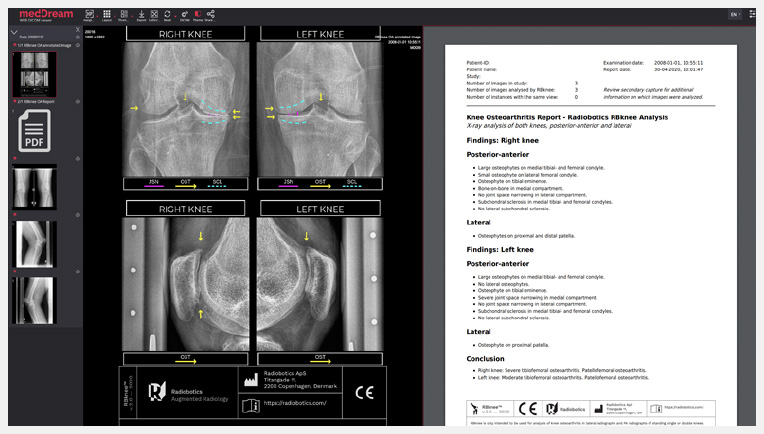 Image analysis
Based on advanced computer vision and deep learning methods
Secondary capture or overlays are integrated with PACS
Generated report
Fully Automated text report describing findings and impression of knee arthritis from PA and LAT images
Checks 3 clinical findings related to OA:
Joint space width
Osteophytes
Sclerosis
Docker deployment easily Integratable into PACS/RIS
Triage for trombectomie
CTA automatized
CTP automatized
MR Diffusion
Assistance for clinical decision